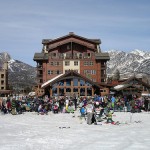 Oh the joys of Spring skiing!  Hands down, this is my favorite time of year on the mountain.   All winter I long for a relaxing, sunny, spring morning, complete with a big hearty breakfast and a leisurely skim of the newspaper.  Then up to the mountain for some slippery corn followed by a big heaping serving of mashed potatoes.  I love Spring skiing. 
Don't let these days fool you, though.  Just as surely as the sun comes up each morning, we can count on Mother Nature for that one last substantial dump of snow just as the crocuses are coming up in the valley.  This usually corresponds to closing day at the resort.  This year I won't be partaking in my beloved Spring ritual, but for those of you who get the pleasure, please remember the following things:
ALWAYS wear sunscreen.  Very important at this elevation.
ALWAYS wear eye protection.  I am a goggle girl, but sunglasses with UV protection will do nicely as well.
HYDRATE  OR DIE!  You must drink water in addition to beers on the beach. 
Beware of newly exposed obstacles.  Once the snow begins to soften and melt, tree stumps, branches and rocks can re-emerge to  wreak some havoc. 
I hope the last days of March bring some beautiful sun for all of you to enjoy.  Please remember how lucky we all are to play in this amazing place!