Due to supply chain issues and lack of inventory, we will not be renting bikes for the 2022 summer season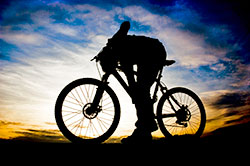 Cliffside Ski & Sport
46825 Highway 550 Durango, CO
(970) 385-1461
San Juan Hut Systems
San Juan Hut Systems operates a 215 mile, self-guided, seven day bike trip starting in Durango or Telluride, Colorado and ending in Moab, Utah. The beautiful route is designed for intermediate riders capable of riding a daily average of 35 miles at an altitude range of over 6,000′. The majority of the trip is spent on U.S. Forest Service and Bureau of Land Management roads and is not technically difficult but the estimated cumulative ascent for the trip is 26,000′. The trails remote location requires bike repair skills, tools, and parts. First aid and survival skills are an absolute necessity.
Cliffside Ski and Bike rental is conveniently located two miles south of the Durango trail head and is ready to service your last minute needs in bike maintenance and equipment.
Our retail shop offers a variety of necessities:
Get all the equipment you need including: frame pumps, CO2 cartridge systems, patch kits, extra glue, tubes, standard tires, chains, multi-tools, chain breaking tools, spokes and nipples, brake and derailleur cables, chain lube, brake pads, toe straps and water bottles.
Ship Your Equipment to us
As a partner with San Juan Hut Systems, Cliffside will receive, unbox, and, if necessary, assemble your bike for $55. At the end of your trip we disassemble, pack, and ship your bike for $55 plus the cost of shipping (via FedEx).
Don't have a bike or don't want to deal with shipping charges? No problem. We have a special deal packaged for Hut Systems' customers. For the 7 day trip, rent a mountain bike, Norco Fluid 3 FS full suspension bike (5 inches travel) for $425. You get the bike for a maximum of 9 days, after that regular full day rental rates apply. If you choose to do the 5 day trip, the Norco Fluid 3 FS will only set you back $325. On the 5 day trip, you can have the bike for a maximum of 7 days before regular day rental rates apply. RESERVATIONS REQUIRED. If you have to cancel your reservation, we require 48 hour notice or we will charge you for one day rental per bike reserved.
Additional Equipment: Pannier Racks & Bags
Depending on the bike you will be riding for your hut trip, we have the right gear bag for you. Due to thru rear axel configurations (15×142, 15×150), our racks may not fit every full suspension frame. You should look at the specs of your bike before calling/emailing for reservations.
| Racks | Price |
| --- | --- |
| Pannier Headland Rack | $30 |
| Pannier Axiom rack (hardtail only) | $25 |
| | |
| | |
| Bags | Price |
| Pannier Side Bags | $25 |
| | |
Advice from the Master Mechanic
Daily maintenance is essential for everyone regardless if it's your bike or a rental. The general wear & tear happens on a daily basis. Take a few minutes each evening & check your bike over. Your tires may need air, your brakes may need to be re-adjusted, you may need to tighten stuff down. Do this religiously and you will have fewer issues on the trail!
Outfitting yourself for a 7 day adventure can be overwhelming! If you are buying new apparel or replacing parts on your bike, please take the time to seriously test-ride them before you come out here. Break in your new pedals/shoes, saddle, and helmets. Ride with your new shorts/jerseys to make sure there isn't a chafing issue & don't forget your base layers & rain gear! We have limited styles/sizes in cool weather gear & it seems to sell out first!
If there is anything special you need, please drop us an email with your request & we will see what we can do!
Read the Bikers Bible & come prepared!